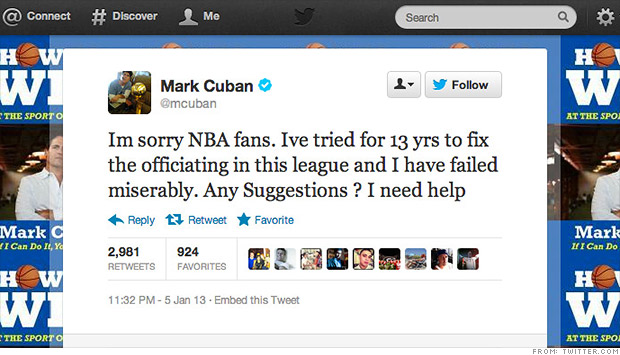 Mark Cuban fired off an air ball on Twitter, and an expensive one at that. After the Dallas Mavericks' 99-96 loss to the New Orleans Hornets on January 5, Cuban expressed his dissatisfaction with the officiating of the NBA. "Ive tried for 13 yrs to fix the officiating in this league and I have failed miserably," Cuban publicly vented to his 1.5 million followers. The NBA's response? A rim-rattling $50,000 fine.
Twitter's role in communication
This was not the first time Cuban had been fined for broadcasting his criticism of the NBA's officials. In fact, he was also fined $500,000 in 2002 for breaking the league's contract concerning criticism. And even though the 2002 fine dwarves the recent 50,000 dollar fine, the NBA's treatment of Twitter openly recognizes the importance of social media in transmitting information. Ever since the age of those strangely small basketball shorts, an owner would need to issue a press release or hold a press conference to express such views. However, the NBA today considers the likes of Twitter and Facebook to be fair game. Given that social media was largely absent when Cuban was handed his 2002 fine, social media's meteoric rise as a source of information is undeniable.
So, while Cuban cannot be fired for inappropriate or defamatory posts like those in the general workforce, he was certainly exposed to the fact that there are tangible consequences for misusing social media. Of course, given Cuban's previous track record, this fine is unlikely to be a slam dunk for the NBA. It probably won't change Cuban's Twitter etiquette significantly. Nevertheless, it sends a message to other owners, and it also helps to establish Twitter's legitimacy as a broadcasting tool.